Les Carlyle
From Qwajalein to Iwo Jima
With the Fourth Marine Division
---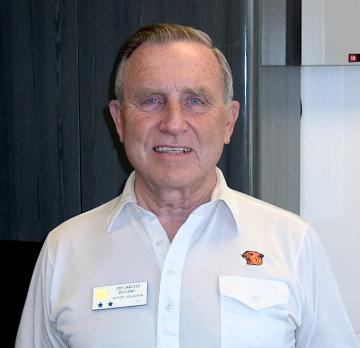 Webmaster: What year were you born?
June 16, 1925 in East Orange, New Jersey.
Webmaster:What got you into the war?
On December 7, 1941, I attended a basketball league meeting, after which I and several of my friends went to a local diner. As we left the diner, a WWI veteran was selling poppies outside and told us that the Japanese had just bombed Pearl Harbor. No one knew where Pearl Harbor was, but we all agreed that it wouldn't take long to defeat those "little guys".
Webmaster:Why the Marine Corps?
Friends of mine participated, as Marines, in the battles on Guadalcanal and the Coral Sea. It seemed like the place to be.
Webmaster:Where was your boot camp?
In early '43 I was sent to Parris Island, South Carolina. I made a new friend who lived in a neighboring town by the name of Tom Christian and we went through boot camp together.
Webmaster:After boot camp, where did you go?
I finished in April 1943 and was assigned to Radio Operators School in Camp Lejeune, North Carolina. Classes consisted of listening to Morse code for 10-12 hours a day sitting on a bench at a table. In 12 weeks I could read Morse code at 20 words per minute and graduated from Radio School. I received a promotion to Private First Class, a pay increase of another $4 and a 7-day leave (the only leave I would ever get).
Webmaster:When and where were you assigned to your combat unit?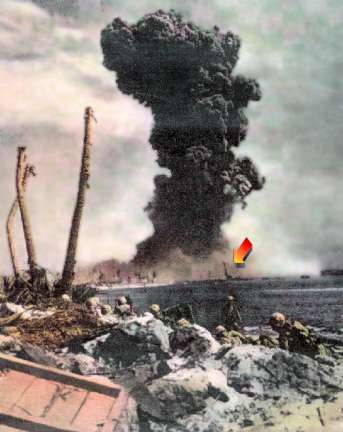 I was shipped to San Diego and assigned to the Headquarters & Service Company, 24th Marine Regiment, 4th Marine Division. We shipped out on January 31, 1944. Of the 19,000 man division, Tokyo Rose said they would hold their reunion in a telephone booth. On February 1, 1944, the Division went ashore on the twin islands of Roi-Namur in the Kwajalein Atoll in the Marshall Islands. The 24th landed on Namur where I saw my first dead Marines and killed my first Japanese. About an hour after I landed, a Marine threw a TNT charge into a pillbox about 200 yards away. It turned out to be an aerial torpedo dump. The ensuing explosion blanketed the entire island with a suffocating dust cloud, instantly killing about 100 Marines. Large chunks of concrete fell all around me (my location in this picture was by the crane--see the arrow). A Marine about 20 yards away was hit by a couple of pieces which severed his right arm. Although six-foot pieces fell 30-40 yards out in the lagoon from my position, I was not injured. The Division suffered 190 dead and 547 wounded while the Japanese lost 3,472 dead and 254 prisoners. My friend, Tom Christian, was wounded during the battle.
Webmaster:What was the Division's next island?
The invasion of Saipan was set for 15 June, 1944, one day before my 19th birthday. I was assigned as the Regimental Commander's radioman during the landing and to the regimental scout team when ashore.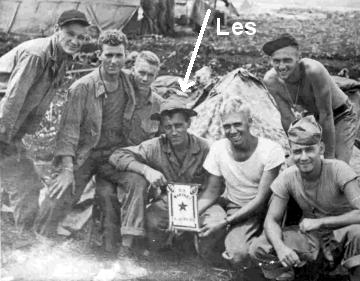 The 4th Division secured Saipan on July 9th at a cost of 1,076 dead and 4,905 wounded. Japanese losses included 23,811 dead and 1,810 prisoners. Many of the enemy and civilians committed suicide by jumping off cliffs as the battle drew to a close. Tom Christian received his second Purple Heart. The Division received a Presidential Unit Citation for capture of Saipan.
Tinian came next and was declared secure on August 1, 1944. The 4th Division had suffered 290 dead and 1,539 wounded. Japanese losses were 9,000 dead and 250 prisoners.
Webmaster:Iwo Jima came next? Tell me about what happened to you there.
Yes, but first we had R&R and training back in Hawaii for six months. We arrived off Iwo Jima on February 18, 1945. The invasion had already begun. My first night on Iwo was perhaps the worst night of my life. Like everyone else, I was disorganized, wet, cold and scared to death of the white phosphorous and fragmentation shells that the Japanese fired almost without letup all night. In fact this was the tone for most of the 36 days that the battle lasted. The island was a burned out rock that reeked of sulfur fumes which had killed all the scrub vegetation. Unlike the previous battles, few of the enemy were ever seen. They had dug into the island and constructed a web of 1,500 caverns interconnected by 16 miles of tunnels They had cross-registered every bit of the island for their artillery.
I worked with the Observation Team the entire time, roaming all over, and in front of the regimental front. Late in the morning of February 23, we had been fired at every time we changed position and one of us had been wounded on the arm. I called the command post and asked if the team should stay in the area under the circumstances. I was asked if I could see Mount Suribachi about 3 miles away. When I said yes and that it looked like something was on it, I was told that it was our flag that had gone up only minutes before. Just as our team started back to the command post, mortar fire started to drop in on where we had been and followed us a couple of hundred yards down the hill until we could take cover under a tank.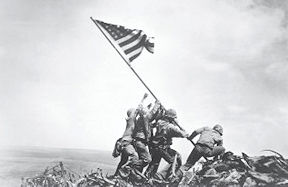 The Japanese were indiscriminately firing 500 lb bombs with rocket motors attached indiscriminately at the Marines. One of them exploded on the lip of a huge shell crater that housed the command post. I, along with every one else, was thrown into the bottom of the crater. When I found that I had somehow not been wounded, I helped get things back to order. One of the radiomen had been gashed across his throat and was bleeding profusely. Several corpsman came to his aid and I pulled the radio into the hole. A Japanese soldier was hollering gibberish on the radio to jam it, giving a surreal air to the death and destruction the blast had caused.
Finally the battle was over and the survivors of the 3rd, 4th and 5th Marine Division boarded ship for the long trip back to their camps. Fifty of us were about to board a transport ship from a smaller vessel when Iwo erupted. A false notice of the surrender of Japan swept the island and everyone started firing into the air. A Marine climbing up the net in front of me was hit in the shoulder and dropped back onto the deck. Everyone took cover. A young Navy officer whose job was to get the transport loaded tried to get the Marines moving, but light shrapnel was still falling all around. Finally he drew his .45 and ordered them to move. Each Marine slammed a round into his weapon and glared at the officer. He quietly holstered his pistol, turned around and was not seen again.
The 4th Division lost 1,806 dead and 14,424 wounded on Iwo Jima - one of the dead was Tom Christian. The entire Japanese garrison of about 22,000 had been killed except for a couple of hundred who were taken prisoner.
Iwo Jima was the last battle for the 4th Marine Division, It received a second Presidential Citation. In four amphibious assaults, the Division, averaging about 19,000 men, suffered 17,722 casualties. Tokyo Rose had been all too prophetic.
Webmaster: Thanks for your time and particularly thanks for your service to our country.


---