Official History of the Hawkbill SS-366
US Navy regulations required, for public information purposes, "that there be on file in Washington a complete but concise factual history of every ship in the Navy." Following is this history written by Lieutenant Louis Fockele who served in various official capacities during the five war patrols.
Note: Pictures are actual photographs from Hawkbill's war patrols
---
HISTORY OF U.S.S. HAWKBILL (SS 366)
by Lou Fockele
U.S.S. Hawkbill (SS 366) was born land-locked, hundreds of miles from salt water, at Manitowoc, Wis.

Built by the Manitowoc Shipbuilding Company, she was launched 9 January 44 and commissioned 17 May of the same year. Hawkbill's sponsor was Mrs. F. W. Scanland, Jr., wife of the Commanding Officer, Lieut. Comdr., F. W. Scanland, Jr., USN, who commanded her throughout her five war patrols.
Four days after commissioning, with stores loaded and the new crew aboard, Hawkbill went to "sea" for the first time on the bitterly cold waters of Lake Michigan, Her first dive, made as a routine trim dive, was no more eventful than hundreds of others.
Mie following two weeks were repetitious of the first day's exercises. Trim dives, drills and various exercises worked constantly toward perfecting the precision that later was to receive its reward in battle.
Part of the training consisted. of a two-day visit to the Great Lakes Naval Training Station, Great Lakes, Illinois. Here the ship was opened for inspection and several thousand visitors, among them Rear Admiral A. S. Carpender, USN, passed through the shiny new boat.
On 1 June 44, Hawkbill's first training period came to an end. Three days later she began her long trek to New Orleans and the sea. Steaming out of Manitowoc breakwater into a dense fog, Hawkbill drove at high speed to Chicago. Thence down the Chicago drainage canal -- with a tug ahead and one astern to Lockport, Illinois, to be cradled in a huge pontoon drydock for passage down the river.
Pushed by the picturesque stern-wheeler riverboat Minnesota, Hawkbill and her crew enjoyed a tranquil six-day holiday gliding between green banks of the Illinois River, past Mississippi bluffs, levees and flats. On 10 June Hawkbill arrived in New Orleans and, six days later, loaded with torpedoes, ammunition and food, departed the United States.
Enroute to the Canal Zone, Hawkbill received her baptism of fire. While attempting to pass clear of a friendly merchant-man and yet remain in the assigned lane, the merchantman became jittery over the proximity of a submarine and opened fire with her deck gun. Five rounds -- all short were fired before Hawkbill's captain signaled over the curt message "Stop it." He stopped.
Remainder of the Caribbean cruise was uneventful; transited the Panama Canal and arrived at Submarine Base, Balboa, on 21 June. After three days rest an intensive training period was begun.
Hawkbill here began to make a name for herself. Of nine torpedoes fired, seven were hits. Out of a total of sixty-nine practice submerged approaches, the periscope was sighted only once.
Hawkbill's training period -- most of which took place in vicinity of Las Perlas Is., -- was reduced four days below the period usually allotted for other boats, but in that time accomplished approximately the same amount of work as the others.
During the period 13 July to 26 July, Hawkbill was enroute Pearl Harbor, T. H. There the third and final training period put finishing touches on operating and battle efficiency of the crew.
First war patrol began on 23 August when Hawkbill placed Pearl Harbor astern and took departure in company with USS Baya and USS Becuna. Destination was Saipan, newly wrested from the Nips. Passing north of Anathan Island, she wheeled around and on 4 September was escorted into Tanapag Harbor, Saipan, to moor alongside USS Holland for fuel and minor repairs.
On the sixth, Hawkbill continued westward to join a number of other submarines in an offensive-reconnaissance group off San Bernadino Strait, P. I. Many aircraft -- most of them enemy were sighted both enroute to and while patrolling this area.
On 21 September patrol area was changed to a reconnaissance line south of Sakishimaa Gunto for three days, but contacts were still limited to enemy aircraft which appeared regularly on their morning searches.
Hawkbill left this area on 23 September for a new spot west of Formosa. After transiting Bashi Channel, she suddenly and unexpectedly lost her virginity upon being forced down and bombed by a Jap plane. The war was on.

A large enemy ship with one escort provided Hawkbill with her first red-letter day and first opportunity to fire torpedoes in anger early in the night of 7 October, while patrolling independently in the middle of South China Sea. The first attack on this fast target was unsuccessful, but in the second this Nip was fired with two hits out of three torpedoes at two thousand yards range. Bursting pyrotechnics floated from the Jap into the black sky. Within seconds this doomed aircraft tender exploded with a roar, reaching mighty fingers of fire and debris to the heavens.
This light provided a timely source of illumination for the escort, which immediately took Hawkbill under fire. Tracers streaked overhead and whistled past the periscope shears to explode in the water nearby. But the captain asked for a little speed and shortly left the angry sub-chaser to report his chagrin to the Empire.
Thus began the close-packed series of actions that was to atone for some 45 days of monotony. Two short hours had passed after scratching the first target when another target group -- an aircraft carrier escorted by two destroyers loomed in the distance. In the bright moonlight he could be clearly seen at 11,000 yards. He was making seventeen knots; at full power Hawkbill could Just keep up with him.
The chase ended abruptly, however, when one of the destroyers suddenly was detached from the group and closed rapidly. Hawkbill dove fast, just in time to receive a well-placed rapid-fire salvo of 19 depth charges released in less than thirty seconds. Twenty more were dropped later, but none caused more than minor damage.
At daybreak, Hawkbill surfaced, still in the vicinity of the carrier group. But efforts to close were fruitless and finally it was necessary to give up the chase.
On 9 October, Hawkbill departed area for Mindoro Strait. Contact report from. Becuna that afternoon resulted in a course change to intercept a new convoy. Within less than an hour the convoy was sighted and Hawkbill commenced another submerged daylight approach.
Just before reaching the firing point, all hell broke loose in the convoy. Becuna was in there pitching from the other side. Torpedo explosions blended with the concussion from dozens of depth charges dropped by escorts. Ships madly turned all directions. With six torpedoes Hawkbill sank one medium freighter and damaged another. Then, shaken by a heavy explosion close by, she sought safety in depth, there to receive 96 depth charges from the racks of furious escorts.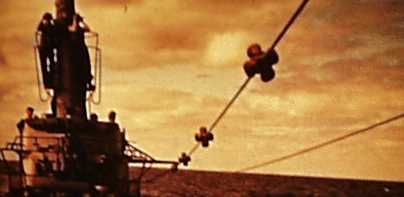 After dark, Hawkbill surfaced and commenced an end around for a second attack. Nine ships were now left in the convoy. Visibility was so good that a night surface attack proved extremely difficult. But with her last three torpedoes forward, Hawkbill managed one hit in the stern of a large passenger freighter, and left her shrouded in a large cloud of black smoke. The skipper called it a day and pointed again to Mindoro.
Early next morning -- the tenth -- brought still another enemy contact, consisting of two freighters, one large tanker and escorts, headed north across the strait.
After an hour and a half of hot chase, attempting to gain firing position ahead of the convoy, success seemed certain. But at that critical moment an enemy plane with a bomb forced Hawkbill out of the picture, letting the ships slip by unmolested.
Then began an 81-hour passage of the close, enemy controlled waters of Sulu Sea, Sibutu Pass, Makassar Strait and Lombok Strait without a single dive. Aircraft were sighted and frequently land was only a stone's-throw away. But Hawkbill stayed on the surface and even initiated some 60 pollywogs into the Ancient Order of the Deep as Neptunus Rex came aboard through the forward torpedo room hatch.
Hawkbill passed through the narrow waters between Lombok and Bali Islands on 14 October, took a deep breath, charged south over the Indian Ocean and on the seventeenth tied up in Fremantle Harbor, West Australia. Her first war patrol was over.
In company with USS Becuna and USS Flasher, Hawkbill departed Fremantle on her second war patrol after normal refit and training. After a short stop at Darwin for fuel, the route followed east of Timor, through the Tiger Islands and north of Kalao Island. On one of the many small native craft sighted, one passenger made frantic motions with a piece of paper, Its poignancy certainly makes it worthy of a place In this account. Written in Malayan, the translated text follows:
"To His Excellency the General, At present with the Americans.
"I, the undersigned, H. Haling bin Kama Soekhoe, from "Afdeeling" Mandar Celebes, "landschap" Pambaoeang, district Bonde, kampong Baboeboelo, but at present living on the island Kaloe Kaloe Koeang, Makassar, herewith inform your Excellency, that the Japanese do not like 'the Islamites.
"The undersigned takes the liberty to forward to you this short letter because:
"If this war will continue much longer, we, Islamites, shall not be able to live very long, as the Japanese have taken all our possessions, like food and clothing. In the end, if we can not bear this any longer, we will have to give in to the Japanese.
"At present only the God Almighty knows how hard life is for us.
"I an hoping to see your Excellency back in the Netherlands East Indies as soon as possible. All your news pamphlets have been carefully kept and have been read with much, interest and therefore the undersigned is still waiting for your return.
"After your Excellency has landed safely will you please look up the undersigned.
"Your humble servant, Haling."
The passage of Makassar Strait and Mindoro Strait was again uneventful. On 4 December Hawkbill sighted smoke on the horizon and started an end around. But a contact report to Flasher and Becuna found the former in perfect position for attack. Flasher added another tanker to her already impressive list and Hawkbill was ignominiously chased away from the show by an escort making liberal use of its three-inch guns.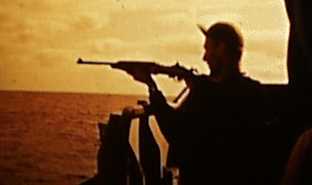 A large hospital ship was sighted on the night of the tenth in heavy seas. Hawkbill, feeling there was a good possibility that contraband was aboard, requested permission by radio to capture the ship. Not granted.
Three days later with the assistance of a search plane, Hawkbill made contact with six destroyers and two transports. The subsequent night surface attacks were at once successful and heartbreakers. On the first attack, six torpedoes sank one and damaged another of the Matsu class destroyers. Three more attacks., during which ten more torpedoes were expended, were made on the cripple without success. No explanation for the misses. After one attack Hawkbill passed so close that men were discernable on the destroyer deck. But apparently this fellow with the charmed life also had bad eyes, for Hawkbill finally gave up and departed the area without having been sighted.
Before dawn next. Morning -- the sixeenth -- two more destroyers of fleet type were picked up. To Hawkbill, it was a race for time. Making a surface approach, she fired four torpedoes at 2400 yards just as dawn broke. It was unbelievable that the destroyers were still ignorant of Hawkbill's presence. But as the torpedoes were in the water, the leading target swung over hard and headed in. Hawkbill submerged -- driving down fast -- in anticipation of a severe counter-attack which never came. One block-buster depth charge was the only indication given that the Japs were at all mad.
Remainder of time on station yielded no further contacts other than hospital ships. On Christmas day -- celebrated aboard complete with Saint Nick, gift exchange and luxurious food Hawkbill departed area once more, for Fremantle.
The passage of treacherous Karimata Strait was made uneventfully, being forced to pass by a tug with two. barges in tow -- a nice gun target anywhere -- because of no-shooting- restriction in the area.
Next night, however, a 300-ton sea truck was sighted near Bawean Island and sent to the bottom with the five inch gun.
New Year's eve was observed appropriately with adequate fireworks and a follow-the-leader chase that proved one of the most exciting in Hawkbill's experience.
At the northern entrance to Lombok Strait a patrol boat sighted Hawkbill and commenced firing with heavy automatic weapons. Evading at 20 knots to westward, two more subchasers were picked up and found to be closing rapidly on either bow. In the bright moonlight, the situation became tense, Then, miraculously, a fortuitous rain squall -- just large enough to screen Hawkbill's movements for a few moments -- came along and allowed her to pull clear of the pursuers.
The last Nip was 7000 yards astern and the captain was again breathing easily when a shore battery on Lombok Island opened fire and illuminated with a large area searchlight.
The first salvo landed 200 yards over, the second 200 yards short, both right on in deflection. The third salvo landed directly in Hawkbill's wake, about 50 yards astern. That was the convincer. With the fourth salvo in the air, Hawkbill dove and the shells were heard to explode as she passed 40 feet. The Nips ceased fire but continued to search with the light for several minutes. Probably thought he'd scratched a sub.
All hands welcomed the early morning sighting of Rottnest Island Light, off Fremantle, on 5 January. And shortly thereafter, the band played "Roll Out the Barrel" as Hawkbill tied up, ending her second patrol.
A month and a refit later, crew and ship in top condition and training again pointed north. Exmouth Gulf saw Hawkbill drop in for fuel, and on 5 February again entered Lombok Strait to perform a special mission. Revenge was sweet during the next six harrowing days. It was a case of hunted gunning for the hunter. Two small freighters, one PC boat and two landing craft -- the latter each carrying a shiny, new Chevrolet truck went down under Hawkbill's assault. One prisoner, a scared Jap G.I. was salvaged.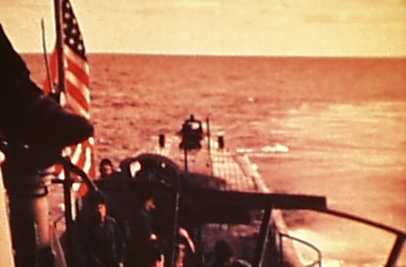 Having cleared Lombok Strait, transited Java Sea and Karimata Strait again. Hawkbill sighted four freighters and two escorts on the morning of 20 February. Shallow water precluded the possibility of a submerged approach and a bright moon early in the evening delayed the surface approach until three o'clock next morning.
The first try was thwarted when one of the escorts detected Hawkbill and drove her off with gunfire. But on the second attack, after beating this escort back to his position in the convoy, six torpedoes fired at the two largest ships at 3300 yards resulted in six beautiful hits. Sinking one 7500 ton and one 4000 ton AK. The escort again charged in but never got close. He turned on a red light as some sort of signal and dropped depth charges at random.
A third approach, on one of the smaller freighters, was unsuccessful because phosphorescent water permitted the target to spot torpedo wakes promptly. He turned away, neatly avoiding the Last four torpedoes. Approaching dawn, shallow water and proximity to Singapore discouraged further attacks. Hawkbill then proceeded to Subic Bay, Luzon, P.I., to reload and refuel, after stopping briefly off Singapore and the entrance to Gulf of Siam.
On 6 March, Hawkbill departed Subic for resumption of Patrol. Nothing of interest occurred except for the boarding of a large Junk off Cape Varella, Indo China. He was empty except for sand ballast and was accordingly sent on his way.
Departed area off Singapore on 30 March,, completing the uneventful trip back to base in Fremantle on 6 April. The third run was at an end.
Another month later, after receiving a refit and training a partially new crew, Hawkbill shoved off on Her fourth patrol. The war started early this time for just south of Lombok Strait a plane drove her down and dropped two bombs neither close. Spent the night of 10 May combing the strait in search of more patrol boats, but, after finding none, reluctantly continued on the way to assume lifeguard duty for a B-24 strike on the Kangean Islands, north of Bali.
All during the day of the eleventh, while submerged off Saubi Island in the Kangean group, numerous enemy float planes were observed. Hawkbill surfaced after dark in time to see a string of bombs from the last of our raiders hit the near island. The show was over.
Continued westward and at two o'clock in the morning, 16 May, commenced patrolling in shallow water seven miles off the Malay coast, just north of Pulo Tenggol, Malaya, scene of much of Hawkbill's later actions.
Within two hours after arrival on station, and 2 hours before dawn, Hawkbill contacted an unidentified target running south along the coast. Within an hour after contact, after closing to get at the target before he could enter a mined area behind Pulo Tenggol, Hawkbill had fired six torpedoes from the forward nest for two hits. Range was 2600 yards. Target stopped and opened up with a barrage of four-inch and automatic weapons fire which lasted off and on until seven o'clock in the morning. The target was obviously hurt, but still afloat, and his gunfire held Hawkbill off during darkness.
Pulling clear until dawn, Hawkbill submerged and started back in, closing sufficiently to identify the target as a sleek, fast mine layer of the Hatsutaka Class. He was being towed slowly toward the beach, stern first., by a small sea truck of about 400 tons. At extreme range of 4650 yards, Hawkbill fired a second salvo of three torpedoes at this target. Sighting the wakes, Hatsutaka opened fire with everything he had in an effort to detonate the torpedoes. To no avail, however, for one broke him in two with a terrific explosion amidships. Hawkbill surfaced and for an hour cruised around among swimming Nippos a thousand yards offshore looking for a life buoy off the prize. Found one and cleared the area.
The Gulf of Siam was the scene of operations beginning 18 May. All hands were startled two days after arrival when, radical maneuvers were necessary to avoid a torpedo fired at Hawkbill by an enemy submarine. On the night of 29 May, contacted a small 400-ton steamer, sinking it with the five-inch guns.
Hawkbill spent several fruitless days and nights searching for targets in shallow water along the Malay coast. On 3 June set course for Mangki Island in the Anambas Island group, northeast of Singapore, for continuation of the patrol. On 15 June departed area, arriving in Subic Bay, Luzon, on 18 June for refit.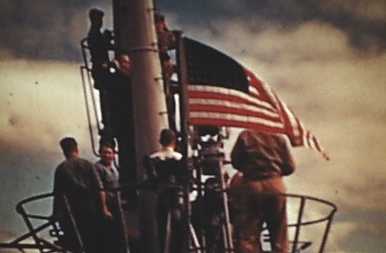 Hawkbill, after refit and training, departed on her fifth and last patrol 12 July 1945. On the seventeenth, once again in the vicinity of Pulo Tenggol, she settled down for patrol. Numerous junks, heavily laden with rice for Singapore, were sent to the bottom with gunfire after seeing their crews safely on the way to shore.
Next day came the longest, most exciting and breathtaking hours Hawkbill has ever endured. Shortly after six o'clock in the evening, while submerged, enemy planes were sighted and directly under them appeared the masts and stacks of a ship. Hawkbill closed and with 14 fathoms of water under her keel, made her attack with six torpedoes on the leading ship of the convoy, a fleet type destroyer. His radical zigs enabled him to avoid the torpedoes, and the noise of firing alerted him to Hawkbill's presence.
Feeling the prospect of further attack without profit, Hawkbill commenced inching out into deeper water. But an hour after first firing, the destroyer apparently had his attacker definitely located. He came in fast, avoided three torpedoes fired at close range and laid a perfect pattern of depth charges that blew Hawkbill to the surface, with a 20-degree up-angle, exposing 60 feet of the forecastle, and putting the bow 20 feet in the air.
A great deal of damage was done, but by hugging the bottom with all noise-making machinery secured, the enemy was successfully deceived and by midnight Hawkbill surfaced. Emergency repairs were made to damaged equipment and by ten o'clock on the nineteenth, Hawkbill was again closing the convoy for a second try. Submerged and went to battle stations but to no avail. The convoy managed to get away unscathed.
On the succeeding days, more junks were sent to the bottom and on 21 July set course under orders for Subic Bay to effect repairs. Arrived four days later.
Again ready for sea, Hawkbill departed Subic on 28 July for continuation of patrol. Several days spent off the entrance to Tourane Bay, Indo China, were without event. On 5 August while enroute to new station, orders were received to proceed to Brunei Bay, Borneo, and accordingly arrived there next day, the first United States submarine to put into Brunei since before the war.
The next few days were spirited and interesting. With a group of five Australian army officers aboard, Hawkbill was assigned to a reconnaissance mission covering a group of islands between Borneo and Singapore. During three action-packed days, Hawkbill destroyed two radio stations with her deck guns, landed a party at Terampah, capitol of the Anambas Islands, where the rapidly vacated Japanese garrison was virtually destroyed, 300 drums of gasoline were fired and great quantities of documents, equipment and souvenirs were confiscated. The colors were raised over the Jap compound, much to the pleasure of a large group of native lookers-on.
Mission completed, Hawkbill returned to Brunei Bay on 13 August. Two days later came word of the enemy's capitulation. On the sixteenth, Hawkbill departed for Subic Bay, arriving 19 August and undergoing a normal refit.
In company with U.S.S. Gilmore and an armada of other submarines, Hawkbill departed Subic Bay on 30 August for Pearl Harbor, arriving there 14 September and departing next day for San Francisco at the van of five other submarines. Arrived San Francisco on 22 September, thus marking the end of a war career that resulted in five successive successful patrols and the sinking of 28,400 tons of enemy shipping.
In addition, 12,500 tons wore damaged and no and of consternation was caused Japs ashore by bombardment and landings.
The following awards were made to the officers and men of Hawkbill for their performance during her first four patrols:

One Legion of Merit
One Silver Star Medal
One Gold Star in lieu of second Silver Star Medal
Six Bronze Star Medals
One Gold Star in lieu of second Bronze Star Medal
Fourteen letters of Commendation and Ribbons.
Additional awards have been recommended as follows for the fifth. patrol:
For Hawkbill's performance during all five patrols, she has been recommended for the N.U.C.
(History of USS HAWKBILL (SS 366) submitted by Commanding Officer 22 September 1945)
Stencilled 4/29/46
NOTE: Commander Fracis W. Scanland, Jr., USN, commanded HAWKBILL throughout her war career from commissioning until November 1945.