War Patrols Of The USS Hawkbill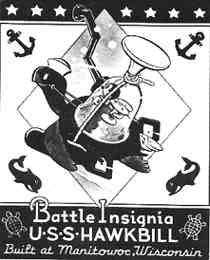 U.S.S. Hawkbill (SS 366) was born land-locked, hundreds of miles from salt water, at Manitowoc, WI.
Built by the Manitowoc Shipbuilding Company, she was launched 9 January 44 and commissioned 17 May of the same year. Hawkbill's sponsor was Mrs. F. W. Scanland, Jr., wife of the Commanding Officer, Lieut. Comdr. Francis Worth Scanland, Jr., USN, who commanded her through her five war patrols.
George Grider writes about Scanland from his book, "War Fish". . .
"My new captain was Worth Scanland, a man of whom I was very fond and a very able and efficient naval officer. He had the tradition more deeply than I. His father had command of the Nevada at Pearl Harbor, had got her underway and stood halfway out of the harbor on the day of the attack before he had to put her aground because of the torpedo holes in her."
Four days, after commissioning, with stores loaded and the new crew aboard, Hawkbill went to "sea" for the first time on the bitterly cold waters of Lake Michigan. Her first dive, made as a routine trim dive, was no more eventful than hundreds of others.
The following two weeks were repetitious of the first day's exercises. Trim dives, drill and various exercises worked constantly toward perfecting the precision that later was to receive its reward in battle.
Part of the training; consisted of a two day visit to the Great Lakes Naval Training Station, Great Lakes, Illinois. Here the ship was opened for inspection and several thousand visitors, among them Rear Admiral A. S. Carpender, USN, passed through the shiny new boat.
On 1 June 44, Hawkbill's first training period came to an and. Three days later she began her long trek to New Orleans and the sea. Steaming out of Manitowoc breakwater into a dense fog, Hawkbill drove at high speed to Chicago. Thence down the Chicago drainage canal--with a tug ahead and one astern--to Lockport, Illinois, to be cradled in a huge pontoon dry-dock for passage down the river.
Pushed by the picturesque stern-wheeler riverboat Minnesota, Hawkbill and her crew enjoyed a tranquil six-day holiday gliding between green banks of the Illinois River, past Mississippi bluffs, levees and flats. On 1O June, Hawkbill arrived in New Orleans and, six days later loaded with torpedoes, ammunition and food, departed the United States.
Enroute to the Canal Zone, Hawkbill received her baptism of fire. while attempting to pass clear of a friendly merchantman and yet remain in the assigned lane, the merchantman became jittery over the proximity of a submarine and opened fire with her deck gun. Five rounds--all short--were fired before Hawkbill's Captain signaled over the curt message "Stop it." He stopped.
Remainder of the Caribbean cruise was uneventful; transited the Panama Canal and arrived at Submarine Base, Balboa, on 21 June. After three days rest an intensive training period was begun.
Hawkbill here began to make a name for herself. Of nine torpedoes fired, seven were hits. Out of a total of sixty-nine practice submerged approaches, the periscope was sighted only once.
Hawkbill's training period--most of which took place in vicinity of Las Perlas Is., was reduced four days below the period usually allotted for other boats, but in that time accomplished approximately the same amount of work as the others.
During the period 13 July to 28 July, Hawkbill was enroute Pearl Harbor, T. H. There the third and final training period put finishing touches on operating and battle efficiency of the crew.
On instructing crew members on absentee balloting and courtesy to a dignitary visiting Pearl Harbor--[George Grider from "War Fish"]
"I called the Hawkbill crew up on deck and got them in formation. They looked rather smart for a submarine crew during the war, which is to say they were all wearing shirts and hats. I gave them the instructions on how to get absentee ballots and made a brief talk about the issues involved in the election. All the while I kept my eye on the road that flanked the dock. As the flurry of activity along it drew nearer, I brought my remarks to a close, and with a sense of timing I have always been proud of, I announced, 'And now, in pursuance of the usual service that we render on this boat, I want you to meet one of the candidates.' Turning at that moment, I snapped an order to salute, and the eyes of every man on board bugged out as Franklin Delano Roosevelt drove by and waved at us."
---
First Patrol
First war patrol began on 23 August when Hawkbill placed Pearl Harbor astern and took departure in company with USS Baya and USS Becuna. Destination was Saipan, newly wrested from the Nips. Passing north of Anathan Island, she wheeled around and on 4 September was escorted into Tanapag Harbor, Saipan, to moor alongside USS Holland for fuel and minor repairs.
On the sixth, Hawkbill continued westward to join a number of other submarines in an offensive-reconnaissance group off San Bernardino Strait, P. I. Many aircraft -- most of them enemy -- were sighted both enroute to and while patrolling this area.
On 21 September patrol area was changed to a reconnaissance line south of Sakishima Gunto for three days, but contacts were still limited to enemy aircraft which appeared regularly on their morning searches.
Hawkbill left this area on 23 September for a new spot west of Formosa. After transiting Bashi Channel, she suddenly and unexpectedly lost her virginity upon being forced down and bombed by a Jap plane. The war was on.
A large enemy ship with one escort provided Hawkbill with her first red-letter day and first opportunity to fire torpedoes in anger early in the night of 7 October, while patrolling independently in the middle of South China Sea. The first attack on this fast target was unsuccessful, but in the second this Nip was fired with two hits out of three torpedoes at two thousand yards range. Bursting pyrotechnics floated from the Jap into the black sky. Within seconds this doomed aircraft tender exploded with a roar, reaching mighty fingers of fire and debris to the heavens. [See note 1]
This light provided a timely source of illumination for the escort, which immediately took Hawkbill under fire. Tracers streaked overhead and whistled past the periscope shears to explode in the water nearby. But the captain asked for a little speed and shortly left the angry sub-chaser to report his chagrin to the Empire.
Thus began the close-packed series of actions that was to atone for some 45 days of monotony. Two short hours had passed after scratching the first target when another target group -- an aircraft carrier escorted by two destroyers --loomed in the distance. In the bright moonlight he could be clearly seen at 11,000 yards. He was making seventeen knots; at full power Hawkbill could just keep up with him.
The chase ended abruptly, however, when one of the destroyers suddenly was detached from the group and closed rapidly. Hawkbill dove fast, just in time to receive well-placed rapid-fire salvo of 19 depth charges released in less than thirty seconds. Twenty more were dropped later, but none caused more than minor damage.
At daybreak, Hawkbill surfaced still in the vicinity of the carrier group. But efforts to close were fruitless and finally it was necessary to give up the chase.
On 9 October, Hawkbill departed area for Mindoro Strait. A contact report from Becuna that afternoon resulted in a course change to intercept a new convoy. Within less than an hour the convoy was sighted and Hawkbill commenced another submerged daylight approach.
Just before reaching the firing point, all hell broke loose in the convoy. Becuna was in there pitching from the other side. Torpedo explosions blended with the concussion from dozens of depth charges dropped by escorts. Ships madly turned all directions. With six torpedoes Hawkbill sank one medium freighter and damaged another. Then, shaken by a heavy explosion close by, she sought safety in depth, there to receive 96 depth charges from the racks of furious escorts.
After dark, Hawkbill surfaced and commenced an end around for a second attack. Nine ships were now left in the convoy. Visibility was so good that a night surface attack proved extremely difficult. But with her lest three torpedoes forward, Hawkbill managed one hit in the stern of a large passenger freighter, and left her shrouded in a large cloud of black smoke. The skipper called it a day and pointed again to Mindoro.
Early next morning -- the tenth -- brought still another enemy contact, consisting of' two freighters, one large tanker and escorts, headed north across the strait.
After an hour and a half of hot chase, attempting to gain firing position ahead of the convoy, success seemed certain. But at that critical moment an enemy plane with a bomb forced Hawkbill out of the picture, letting the ships slip by unmolested.
Then began an 81 hour passage of the close, enemy controlled waters of Sulu Sea, Sibutu Pass, Makassar Strait and Lombok Strait without a single dive. Aircraft were sighted and frequently land was only a stone's throw away. But Hawkbill stayed on the surface and even initiated some 60 pollywogs into the Ancient Order of the Deep as Neptune Rex came aboard through the forward torpedo room hatch.
Hawkbill passed through the narrow waters between Lombok and Ball Islands on 14 October, took a deep breath, charged south over the Indian Ocean and on the seventeenth tied up in Fremantle Harbor, West Australia. Her first war patrol was over.
---
Second Patrol
In company with USS Becuna and USS Flasher, Hawkbill departed Fremantle on her second war patrol after normal refit and training. After a short stop at Darwin for fuel, the route followed east or Timor, through the Tiger Islands and north of Kalao Island. On one of the many small native craft sighted, one passenger made frantic motions with a piece of paper. Its poignancy certainly makes it worthy of a place in this account. Written in Malayan, the translated text follows:
"To His Excellency the General, At present with the Americans.
"I, the undersigned, H. Haling bin Kama Soekhoe, from "Afdeeling" Mandar Celebes, "landschap" Pembaoeang, district Bonde, kampong Baboeboelo, but at present living on the island Kaloe Kaloe Koeang, Makassar, herewith inform your Excellency, that the Japanese do not like the Islamites.
"The undersigned takes the liberty to forward to you this short letter because:
"If this war will continue much longer, we, Islamites, shall not be able to live very long, as the Japanese have taken all our possessions, like food and clothing. In the end, if we can not bear this any longer, we will have to give in to the Japanese.
"At present only The God Almighty knows how hard life is for us.
"I am hoping to see your Excellency back in the Netherlands East Indies as soon as possible. All your news pamphlets have been carefully kept and have been read with much interest and therefore the undersigned is still waiting for your return.
"After your Excellency has landed safely will you please look up the undersigned.
"Your humble servant, - Haling."
The passage of Makassar Strait and Mindoro Strait was again uneventful. On 4 December Hawkbill sighted smoke on the horizon and started an end around. But a contact report to Flasher and Becuna found the former in perfect position for attack, Flasher added another tanker to her already impressive list and Hawkbill was ignominiously chased away from the show by an escort making liberal use of its three-inch gun.
A large hospital ship was sighted on the night of the tenth in heavy seas. Hawkbill, feeling there was a good possibility that contraband was aboard, requested permission by radio to capture the ship. Not granted.
Three days later, with the assistance of a search plane, Hawkbill made contact with six destroyers and two transports. The subsequent night-surface attacks were at once successful and heartbreakers. On the first attack, six torpedoes sank one and damaged another of the Matsu class destroyers. Three more attacks, during which ten more torpedoes were expended, were made on the cripple without success. No explanation for the misses. After one attack Hawkbill passed so close that men were discernable on the destroyer's deck. But apparently this fellow with the charmed life also had bad eyes, for Hawkbill finally gave up and departed the area without having been sighted.
Before dawn next morning -- the sixteenth -- two more destroyers of fleet type were picked up. To Hawkbill it was a race for time. Making a surface approach, she fired four torpedoes at 2400 yards just as dawn broke. It was unbelievable that the destroyers were still ignorant of Hawkbill's presence. But as the torpedoes were in the water, the leading target swung over hard and headed in. Hawkbill submerged -- driving down fast --in anticipation of a severe counter-attack which never came.
One block-buster depth charge was the only indication given that the Japs were at all mad.
Remainder of time on station yielded no further contacts other than hospital ships. On Christmas day - celebrated aboard complete with Saint Nick, gift exchange and luxurious food - Hawkbill departed area once more for Fremantle.
The passage of treacherous Karimata Strait was made uneventfully, being forced to pass by a tug with two barges in tow - a nice gun target anywhere - because of no shooting restrictions in the area.
Next night, however, a 300 ton sea truck was sighted near Bawean Island and sent to the bottom with the five inch gun.
New Year's eve was observed appropriately with adequate fireworks and a follow-the-leader chase that proved one of the most exciting in Hawkbill's experience.
At the northern entrance to Lombok Strait a patrol boat sighted Hawkbill and commenced firing with heavy automatic weapons. Evading at 20 knots to westward, two more subchasers were picked up and found to be closing rapidly on either bow. In the bright moonlight, the situation became tense. Then, miraculously, a fortuitous rain squall - just large enough to screen Hawkbill's movements for a few moments - came along and allowed her to pull clear of the pursuers.
The last Nip was 7000 yards astern and the captain was again breathing easily when a shore battery on Lombok Island opened fire and illuminated with a large arc searchlight. The first salvo landed 200 yards over, the second 200 yards short, both right on in deflection. The third salvo landed directly in Hawkbill's wake, about 50 yards astern. That was the convincer. With the fourth salvo in the air, Hawkbill dove and the shells were heard to explode as she passed 40 feet. The Nips ceased fire but continued to search with the light for several minutes. Probably thought he'd scratched a sub.
All hands welcomed the early morning sighting of Rottnest Island Light, off Fremantle, on 5 January. And shortly thereafter, the band played "Roll Out the Barrel" as Hawkbill tied up, ending her second patrol.
---
Third Patrol
A month and a refit later, crew and ship in top condition and training again pointed north. Exmouth Gulf saw Hawkbill drop in for fuel, and on 5 February again entered Lombok Strait to perform a special mission*. Revenge was sweet during the next six harrowing days. It was a case of hunted gunning for the hunter. Two small freighters, one PC boat and two landing craft - the latter each carrying a shiny, new Chevrolet truck - went down under Hawkbill's assault. One prisoner, a scared Jap G.I., was salvaged.
Having cleared Lombok Strait, transited Java Sea and Karimata Strait again, Hawkbill sighted four freighters and two escorts on the morning of 20 February. Shallow water precluded the possibility of a submerged approach and a bright moon early in the evening delayed the surface approach until three o'clock next morning.
The first try was thwarted when one of the escorts detected Hawkbill and drove her off with gunfire. But the second attack, after beating this escort back to his position in the convoy, six torpedoes fired at the two largest ships at 3500 yards resulted in six beautiful hits. Sinking one 7500 ton and one 4000 ton AK. The escort again charged in but never got close. He turned on a red light as some sort of signal and dropped depth charges at random.
A third approach, on one of the smaller freighters, was unsuccessful because phosphorescent water permitted the target to spot torpedo wakes promptly. He turned away, neatly avoiding the last four torpedoes. Approaching dawn, shallow water, and proximity to Singapore discouraged further attacks. Hawkbill then proceeded to Subic Bay, Luzon, P.I, to reload and refuel, after stopping briefly off Singapore and the entrance to Gulf of Siam.
On 6 March, Hawkbill departed Subic for resumption of patrol. Nothing of interest occurred except for the boarding of a large junk off Cape Varella, Indo China. He was empty except for sand ballast and was accordingly went on his way.
Departed area off, Singapore on 30 March, completing the uneventful trip back to base in Fremantle on 6 April. The third run was at an end.
---
Fourth Patrol
Another month later, after receiving a refit and training a partially new crew, Hawkbill shoved off on her fourth patrol. The war started early this time for just south of Lombok Strait a plane drove her down and dropped two bombs, neither close. Spent the night of 10 May combing the strait in search of more patrol boats, but after finding none reluctantly continued on the way to assume lifeguard duty for a B-24 strike on the Kangean Islands, north of Bali.
All during the day of the eleventh, while submerged off Saubi Island in the Kangean group, numerous enemy float planes were observed. Hawkbill surfaced after dark in time to see a string of bombs from the last of our raiders hit the near island. The show was over.
Continued westward and at two o'clock in the morning, 16 May, commenced patrolling in shallow water seven miles off the Malay coast, just north of Pulo Tenggol, Malaya, scene of much of Hawkbill's later actions.
Within two hours after arrival on station, and 2 hours before dawn, Hawkbill contacted an unidentified target running south along the coast. Within an hour after contact, after closing to get at the target before he could enter a mined area behind Pulo Tenggol, Hawkbill had fired six torpedoes from the forward nest for two hits. Range was 2600 yards. Target stopped and opened up with a barrage of four-inch and automatic weapons fire which lasted off and on until seven o'clock in the morning. The target was obviously hurt, but still afloat, and his gunfire held Hawkbill off during darkness.
Pulling clear until dawn, Hawkbill submerged and started back in, closing sufficiently to identify the target as a sleek, fast mine layer of the Hatsutaka Class. He was being towed slowly toward the beach, stern first, by a small sea truck of about 400 tons.
At extreme range of 4650 yards, Hawkbill fired a second salvo of three torpedoes at this target. Sighting the wakes, Hatsutaka opened fire with everything he had in an effort to detonate the torpedoes. To no avail, however, for one broke him in two with a terrific explosion amidships. Hawkbill surfaced and for an hour cruised around among swimming Nippos a thousand yards offshore looking for a life buoy off the prize. Found one and cleared the area. [Note 2]
The Gulf of Siam was the scene of operations beginning 16 May. All hands were startled two days after arrival when radical maneuvers were necessary to avoid a torpedo fired at Hawkbill by an enemy submarine. On the night of 29 May contacted a small 400 ton steamer, sinking it with the five-inch guns.
Hawkbill spent several fruitless days and nights searching for targets in shallow water along the Malay coast. On 3 June set course for Mangki Island in the Anambas Island group, north-east of Singapore, for continuation of the patrol. On 15 June departed area, arriving in Subic Bay, Luzon, on 18 June for refit.
Fifth Patrol
Hawkbill, after refit and training, departed on her fifth and last patrol 12 July 1945. 0n the seventeenth, once again in the vicinity of Pulo Tenggol, she settled down for patrol. Numerous junks, heavily laden with rice for Singapore, were sent to the bottom with gunfire after seeing their crews safely on the way to shore.
Next day come the longest, most exciting and breathtaking hours Hawkbill has ever endured. Shortly after six o'clock in the evening, while submerged, enemy planes were sighted and directly under them appeared the masts and stacks of ship. Hawkbill closed and with 14 fathoms of water under her keel made her attack with 6 torpedoes on the leading ship of the convoy, a fleet type destroyer. His radical zigs enabled him to avoid the torpedoes, and the noise of firing alerted him to Hawkbill's presence.
Feeling the prospect of further attack without profit, Hawkbill commenced inching out into deeper water. But an hour after first firing, the destroyer apparently had his attacker definitely located. He came in fast, avoided three torpedoes fired at close range, and laid a perfect pattern of depth charges that blew Hawkbill to the surface, with a 20 degree up-angle, exposing 60 feet of the forecastle, and putting the bow 20 feet in the air.
A great deal of damage was done, but by hugging the bottom with, all noise-making machinery secured, the enemy was successfully deceived and by midnight Hawkbill surfaced. Emergency repairs were made to damaged equipment and by ten o'clock on the nineteenth, Hawkbill was again closing the convoy for a second try. Submerged and went to battle stations but to no avail. The convoy managed to get away unscathed.
On the succeeding days, more junks were sent to the bottom and on 21 July set course under orders for Subic Bay to effect repairs. Arrived four days later.
---
Sixth Patrol? (extension of the 5th?)
Again ready for sea, Hawkbill departed Subic on 28 July for continuation of patrol. Several days spent off the entrance to Tourane Bay, Indo China, were without event. On 5 August, while enroute to new station, orders were received to proceed to Brunei Bay, Borneo, and accordingly arrived there next day, the first United States submarine to put into Brunei since before the war.
The next few days were spirited and interesting. With a group of five Australian army officers aboard, Hawkbill was assigned to a reconnaissance mission covering a group of islands between Borneo and Singapore. During three action packed days, Hawkbill destroyed two radio stations with her deck guns, landed a party at Terampah, capitol of the Anambas Islands, where the rapidly vacated Japanese garrison was virtually destroyed, 300 drums of gasoline were fired and great quantities of documents, equipment and souvenirs were confiscated. The colors were raised over the Jap compound, much to the pleasure of a large group of native lookers-on.
Mission completed, Hawkbill returned to Brunei Bay on 13 August. Two days later came word of the enemy's capitulation. On the sixteenth, Hawkbill departed for Subic Bay, arriving 19 August and undergoing a normal refit.
In company with U.S. Gilmore and an armada of other submarines, Hawkbill departed Subic Bay on 30 August for Pearl Harbor, arriving there 14 September and departing next day for San Francisco at the van of five other submarines. Arrived San Francisco on 22 September, thus marking the end of a war career that resulted in five successive successful patrols and the sinking of 28,400 tons of enemy shipping.
In addition, 12,500 tons were damaged and no end of consternation was caused Japs ashore by bombardment and landings.
---
Notes: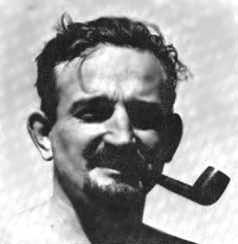 1) From "War Fish", the following account by the author and executive officer, George Grider.
"I was standing on the bridge . . . when . . . a mighty concussion shook my insides. A wave of heat enveloped me, and at the same moment came the sound of a tremendous explosion. We held on to keep from falling and watched the sight before us with awestruck eyes.
George William Grider
We had hit an ammunition ship, touching off fireworks that made the combined displays of a dozen Fourth of Julys look like a pair of tired lightning bugs by comparison. The entire area was bathed in light. White and yellow flames rose in a vast mushroom hundreds of feet into the air. Rockets and tracer ammunition blazed weird diagrams across the sky as flaming bits of wreckage flew up and fell smoking back into the ocean. We were witnessing the utter destruction of a large and heavily loaded ship . . . . Worth Scanland was filled with a delight reminiscent of Mush Morton's fierce glee." [Grider had earlier served under Mush Morton on the Wahoo as a junior officer.]
After this patrol, Grider transferred to the Flasher as skipper. On December 4, he encountered his first target. Of this he wrote, "I stood in the quiet conning tower, feeling the rush of blood to my skin, knowing the test I had dreamed and wondered and worried about since my earliest days at the Naval Academy was upon me at last. My days of command in combat had arrived. What would I do with it?" Upon his first successful firing, he remarked, "as I swung the scope to look, a feeling of exaltation like nothing I had ever experienced before swept over me. By heaven, I had paid my way as a skipper now, no matter what happened." When his first patrol was over in the Flasher, Grider had sunk two destroyers and four large tankers for a credited tonnage of 42,800.
2) Captain Worth Scanland describes the sinking of the destroyer, Hatsutaka.
"[This] story begins the day following our sinking the small convoy, when on the evening Fox schedule from Pearl Harbor we heard a message from COMSUBPAC announcing the loss of LAGARTO in the Gulf of Siam when depth charged by the destroyer HATSUTAKA. The skipper of LAGARTO (a sister boat of ours built at Manitowoc) was a wonderful friend of mine named Frank Latta. When I received the news of his loss I went immediately to the charts and after some study came to the conclusion the HATSUTAKA must have been escorting a convoy from Singapore to Saigon and most likely she would have to return to Singapore for another convoy and thus provide HAWKBILL with an opportunity to avenge the loss of LAGARTO. So we sent a message requesting permission to deviate from patrol orders long enough to take on HATSUTAKA, which was approved by COMSUBPAC."
"Taking up position a mile or so off Pulo Tengol, which is located approximately at the southeastern corner of the Gulf of Siam where we would be likely to intercept HATSUTAKA which ever way she chose to return to Singapore, I wrote in the captain's Night Order Book to maintain a sharp lookout and to use the emergency call bell at the head of my bunk if any contact of any kind was made. Because it was a rainy night. and we were quite near the Equator (on the surface charging batteries, of course), I stripped down to the buff and fell asleep on my bunk. The next noise I heard was the five buzzes on the emergency buzzer from the bridge, telling me in no uncertain terms. "Captain to the bridge, on the double!" I hit the deck running and was halfway up the ladder between the control room and the conning tower when I realized, in the excitement, that I had neglected to put on some clothes! I arrived in the conning tower to be told that the target was within torpedo range and we had a firing setup on the torpedo data computer (TDC) where Lou Fockele was busy twirling knobs and urging me to hurry. Reaching the bridge, I grabbed the target bearing transmitter and when the bearing was acknowledged by the fire control party in the conning tower, I gave the order to launch three torpedoes in a spread at our target, which was still standing southward down the Gulf Coast just as we had guessed she would. When our stopwatch had counted off about one minute from launch of the torpedoes, we, on the bridge, were rewarded with the sight of a large explosion on the target, quickly followed by a report from Lou that the target had come to a stop. Then she apparently sighted us or her radar picked us up as we found ourselves coming under fire from a number of ship's medium caliber guns. We turned away and sought safety by opening the range between us and our victim, and, about this time, some kind shipmate quietly reminded me that I was still quite naked!"
"During the remainder of the night, our target remained stationary, and we on the surface both awaiting dawn to assess the situation. We recognized that we were in very unfriendly waters. as the Gulf of Siam averages about 15 fathoms (90 feet) throughout, and our keel was therefore only 26 feet from the bottom when submerged. Besides that problem, there lay between us and the drifting enemy (by daylight confirmed as HATSUTAKA) a large U. S. laid minefield which I was reluctant to enter, an enemy float plane was circling lazily around the destroyer, and eventually a seagoing tug showed up, with the obvious purpose of stealing our victory from us. By this time (perhaps 0900), we were submerged, and a range with our radar equipped periscope showed us to be out 5,000 yards from HATSUTAKA. Our torpedoes had two options in speed, 30 knots and 45 knots, with corresponding ranges 5,000 yards at slow speed and about 3,000 yards at high speed, as I recall. In any case, were we to fire a fish at the enemy as a last ditch effort to avert her escape, we would have to be very, very lucky. As every man aboard HAWKBILL was the best in his field, I had full confidence in our torpedo gang to give us a "hot, straight and normal" run and ordered a forward tube to be readied for firing, torpedo set at maximum range slow speed and because of the minefield, zero running depth. With a heartfelt prayer and wish for all the luck; we could muster, I ordered that torpedo fired from a tube in the forward torpedo room. With the periscope raised, I watched every foot of that baby run for five eternally long minutes as she left a trail of blue lube oil smoke in her wake. I can give you my word that the sight of that fish coming inexorably at them had the crew of the HATSUTAKA firing every gun they had at it, to no avail. As I watched, the luckiest torpedo in U.S. submarine history struck the target squarely between the smoke stacks and blew her into two quickly sinking pieces. LAGARTO was avenged!"
"Not only did HAWKBILL probably fire the longest successful torpedo shot in U.S. submarine history, but most certainly she was the only submarine in anybody's navy to sink an enemy man-o-war while under the leadership of a 'buck nekked' skipper!"
[Ed note: Captain Scanland was 34 years old at the time]
What happened to the Lagarto:
As the war ground to a close, with the attack on Iwo Jima and then Okinawa, some skippers began to run inordinate risks in order to sink ships. One such was Commander Frank Latta, the skipper of the Lagarto. He and Lieutenant Commander Ben Jarvis in the Baya decided to hunt in the shallow waters of the Gulf of Siam. They found a convoy but the escorts were equipped with radar and were alert. They drove the submarines off; the submarines tried again and were driven off again. Latta must have made another attempt on his own and was sunk by one of the escorts, the converted minelayer Hatsutaka. Her attack on the submarine was an easy one. She had the new improved radar that found the submarine for her, and in the end the Lagarto was trapped in only thirty fathoms of water.
July 1, 2005 the following article was released by Reuters. They have found Lagarto
Reuters, By Ed Cropley, July 01, 2005

BANGKOK - A team of deep-sea divers has discovered the wreck of a U.S. submarine sunk by a Japanese minelayer 60 years ago in the Gulf of Thailand during the closing stages of World War Two.
The U.S.S. Lagarto, a 1,500 tonne "Balao class" submarine, disappeared without trace on May 4, 1945 after attacking a Japanese tanker and destroyer convoy around 100 miles off the southeast coast of Thailand.
All 86 men on board are still listed as missing in action.
"We've always known that since the end of the War there's been a submarine missing around there," said British wreck diver Jamie MacLeod, who discovered the 110 m (310-foot) submarine sitting in 70m (225 ft) of water in May.
"We went into all the war-time records, cross-referenced them with fishermen's marks and then searched with the sonar and it came up trumps -- we found a bump on the bottom, went down the line and there it was," MacLeod said.
The Pentagon has not yet confirmed the identity of the wreck, which remains the property of the U.S. Navy under international maritime law, although MacLeod says there is little doubt in his mind. "It's a Balao class sub for sure because I've seen it and touched it and it's the only one lost in Thailand," he said.
The Gulf of Thailand is the final resting place for many U.S. and Japanese ships and planes destroyed in the struggle for maritime supremacy in South East Asia and the South China Sea in World War Two.
Thailand's west coast is strewn with Japanese and British warships sunk while patrolling the Indian Ocean shoreline from ports in Burma, or Myanmar as it is now called, and Sri Lanka. MacLeod, who said he had also just discovered a Lockheed P38 Lightning -- a high-altitude fighter dubbed the "Forktailed Devil" by the German Luftwaffe -- said the Lagarto appeared to be relatively undamaged.
"It looks to me like it's intact and it's sitting upright on the bottom in very clear water, so you can get a good idea of what it looks like," he said. "Everything is still on it -- all the armaments, the brass navigation lights. It's beautiful."
Having contacted relatives of the crew through the U.S. Submarines of WWII Veterans Association, MacLeod said he would be taking two Lagarto grandchildren to the site of the wreck later this month."It's nice because now the families are talking about closure," MacLeod said.
---
* Special Mission: Because this mission was classified "Top Secret" it did not appear in the regular patrol report. On 17 Jan 2000, Worth Scanland provided the following information.
It was the end of our second patrol. On New Years eve, 1944, I was about to transverse the Lombok Strait to exit the Java Sea into the Indian Ocean where I would head for Perth, my home port. The Lombok Strait is the only body of water deep enough to allow passage for submarines. This passage was roughly ten miles long and about five miles wide except at the southern end where the Island of Lombok jutted out toward the Island of Bali. Tidal activity through the strait was typically 5 knots south a fairly severe tide for submarines to navigate and impossible underwater if one was heading north. As a result, we had to transverse on the surface and only at night otherwise we would be visible from the shore where the Japanese had gun batteries.
Because of the Japanese desire to prevent our submarines from getting into their waters, they patrolled the Lombok Strait with three subchasers that carried depth charges, torpedoes, sonar, radar and artillery. All for the sole purpose of taking us out which they could easily do if they caught us.
As I approached the northern mouth of the strait at about midnight, I got word that we picked up an SJ radar signal from one of our boats heading north approaching us. We made contact and pulled along one another and communicated by megaphone. I asked about patrol boats in the straits and was advised that there were three on the Bali side (east). It was suggested that I veer to the Lombok side to avoid contact.
While proceeding on the surface into the strait, radar reported a contact on our port bow. We adjusted our course slightly to starboard moving closer to the middle of the strait. Radar then informed me that there was another contact closing in on our starboard quarter. There was a full moon out and visibility could not have been better and one could see for miles. I eased even further starboard with the hope of passing around the two patrol boats when we got a third contact, this one closing on our starboard bow. With them all closing on us, it was obvious to me that they had us on their radar. I didn't have many options. One, of course, was to submerge but that was basically giving up because, once submerged, we lost our option of any offensive act.
About this time a rare weather phenomenon only found in the south pacific, a weather squall, appeared in front of us. It was a tremendous storm covering a limited area and pouring rain so that it appeared as a impervious cylinder of water. I could see it clearly in the moonlight and as far as I was concerned it was a miracle. I headed into it to be shielded by the waterfall. All radar contacts were lost. By the time I exited the south end of the storm, all three patrol boats were astern. Since my surface speed was 21 knots and theirs was no better than 15, I was out of immediate danger and commenced my run through the strait.
As we entered the narrow passage at the south end of the strait, Rex Murphy, who was on the bridge, reported, "I just saw two gun flashes on the port beam." We knew the Japanese had radar and guns on that coast of Lombok. We waited and the shells fell about a hundred yards short. Murphy reported another two flashes and two shells passed over and landed about a hundred yards beyond us. I yelled at Murphy and said that we were bracketed and the next ones were going to come down on the bridge. He called for us to submerge before the next salvo came.
Three days later, we arrived at Perth for two weeks R&R which gave the base time to address all the boat's problems and prepare it for the next patrol. In by report to Admiral Christie, I advised him that we were going to lose a boat in the straits sooner or later and probably sooner. I didn't suggest any remedy but that we had a problem in that area that would have to be remedied.
Near the end of the R&R, Admiral Ralph Christie called me to his headquarters in downtown Perth to ask me if I were interested in a "special mission" as part of my 3rd. patrol. Special missions usually constituted putting coast watchers ashore on some island and I felt it was always a welcome break in the patrol routine. After agreeing, Christie, a highly regarded ordnance officer, told me they wanted to test a new torpedo. These were miniature torpedoes about half the 18' of a regular torpedo and half the diameter. The design of these torpedoes was, after launch, they would rise to the surface then start running in circles using passive sonar to locate the sound of screws emanating from a surface vessel and target the screws. Christie made it clear that he wanted me to take these into Lombok Strait and take out those patrol boats as an operational test of these torpedoes. I thought, "How am I going to sell this one to my officers?" We have just had a narrow escape in the straits and now we are going back in and stay there. Of course I agreed to do this.
We had a number of these dummy miniatures known as "cuties." For several days, we tested these with the surface ASR (submarine rescue ship) Florikan. He would cruise in our area and we would send up the dummies to see how well they worked. What we discovered is that the screw noise had to be so loud that the target must be immediately overhead of the boat. It is not a comforting thought to purposely place a submarine directly under an anti-submarine craft loaded with depth charges. But that was how our third war patrol began.
It was night when we entered the south end of the Lombok Strait and radar advised of an aircraft heading our way. We submerged until it passed then surfaced and continued on our way. Shortly, however, back came the aircraft on the reverse sweep forcing us back under. After several more such episodes, I knew we had to change our plan. We couldn't keep this up because we were running low on battery power and also compressed air which we needed to surface. My radar tech was a bright young lad named Katnic. He came to me and advised that he noticed they were using an old, particularly long pulse radar which meant that as the plane approached, these radar pulses converged and they couldn't see us on their screen at that point. I asked him how sure he was because if we counted on it, we could be in real trouble if he were wrong. He said he was sure so the next time the plane approached, I just stopped the boat so we had no visible wake but did not submerge. Sure enough, when the plane reached a point about 500 yards out, it turned away from us. We continued on into the strait unmolested.
Later that night, we got a contact off the bow and submerged at a point that put us right under the track of the contact. I assumed this to be one of the patrol boats. As it passed overhead, I launched the first cutie and a couple of moments later, BOOM. We pulled ahead not wanting the ship to fall on us as it sank. Surfacing we observed a lot of debris and two barges floating southward freely in the current. We quickly figured out we had torpedoed a tug towing the two barges and it was the tug we hit. We approached one of the barges and spotted two Japanese soldiers on deck. We motioned them to approach but they refused. We then moved over to the other barge and again motioned for the two soldiers to approach. One did. He was very frightened and didn't want to die. We brought him aboard and my crew stripped him to be sure he had nothing with which to harm us. We brought him below as our first prisoner then sunk both barges.
With our prisoner onboard, we headed back into the strait. This prisoner was very cooperative and our crew started to turn him into our mascot. We had him working all day polishing up the brass and he was happy to oblige us any way he could. He was a very nice little guy. The next couple of nights were uneventful but on the third one, we had a contact and again placed ourselves submerged in its path. As it closed on us, sonar reported a second contact just behind the first one. It appeared that we had two patrol boats, one following the other. I gave the order to open both fore and aft tubes and prepared to launch cuties from each end of the boat. As the first boat passed overhead and to our rear, the following boat approached our stern. I gave the order to launch both fore and aft cuties and within a few moments BOOM followed by another BOOM. We pulled ahead then surfaced to find one patrol boat had already gone under while the other was helpless and still in the water drifting with the ever-present current. From a thousand yards, I launched a steam torpedo to run on the surface toward the midships. When it hit, the patrol boat disintegrated.
The next night saw no activity so our orders were to continue onto our patrol area and leave the straits. We transferred our prisoner to a southbound submarine who had just completed her patrol.